Employment Opportunity – Fiber Optic Cable Splicer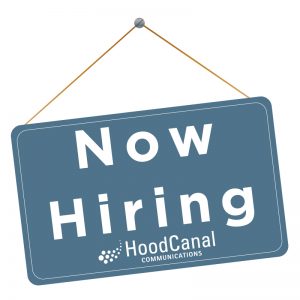 Hood Canal Communications is seeking a full-time Fiber Optic Cable Splicer. Fiber Optic Cable Splicer. Position plays vital role in ensuring quality and timely deliveries of our fiber services along with additional services to customers. Skilled in fiber optic splicing with an understanding in engineering and splicing drawings. This position will have project management skills, ability to work independently, knowledge of construction practices for outside plant fiber placement, sufficient experience with computers and have a background in fiber optic splicing documentation practices.  Great benefits package for employees. Salary is DOE.
Requirements:
Minimum of 2 years of fiber optic cable splicing
H.S diploma
Valid WDL and clean driving record
Computer skills
Must be punctual, reliable and able to retain newly learned information
Must be willing to actively learn new skills and expand knowledge
Must be organized and detail oriented
Must be drug free
Send resume to Hood Canal Communications, PO Box 249, Union, WA 98592 or via email. Please no walk-ins or phone calls.
Hood Canal Communications is a drug free, equal opportunity employer.