Employment Opportunity- Install & Repair Tech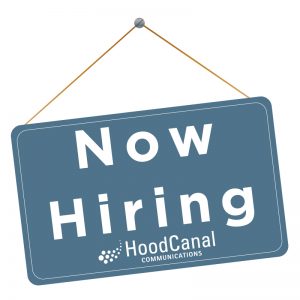 Hood Canal Communications is seeking a full-time Telecommunications Installer & Repair Technician.  Position requires installation and repair of all necessary cable/telephone/fiber-to-the-home/network wiring, in and out of the customer premise and also the hardware from the distribution system to the customer's equipment for the reception of cable, broadband, and telephone services. Additionally, maintaining and repairing outside plant facilities. Great benefits package for employees. Salary DOE.
Requirements:
Minimum of 2 years of Telecommunications installation
H.S diploma
Valid WDL and clean driving record
Excellent computer skills
Great oral communication skills for direct customer interaction
Must be punctual, reliable and able to retain newly learned information
Must be willing to actively learn new skills and expand knowledge
Must be organized and detail oriented
Must be drug free
Send resume to Hood Canal Communications, PO Box 249, Union, WA 98592 or via email. Please no walk-ins or phone calls.
Hood Canal Communications is a drug free, equal opportunity employer.