Contests
Happy birthday us!
This year Hood Canal Communications turns 85, and we're celebrating with you. We are excited to be offering special giveaways and even a special birthday party later this Summer.
Join the fun!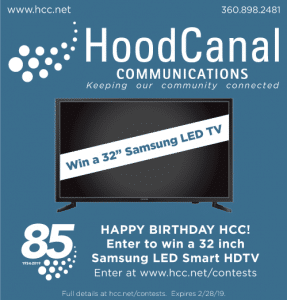 Tell us what you love about HCC to enter for a chance to win. One lucky customer will win our grand prize, a Samsung 32-inch LED Smart HDTV! First and second runners-up will also receive a fabulous prize.
*Entries must be received by February 28, 2019. Contest available for HCC customers, their families, employees, or friends. Valid HCC account number in good standing required.
---
Thank you to everyone who participated in our 2018 $500 Event Sponsorship!
During the fourth quarter of 2018, HCC and Discovery, Inc. gave away a $500 sponsorship for a local event, and one lucky HCC customer helped us do it.
Congratulations to the winning charity, Denim & Diamonds: Karen Hilburn Cancer Fund, nominated by Virginia B. of Shelton!
The Karen Hilburn Cancer Fund supports the diagnoses and treatment of Breast, Cervical, Ovarian, Uterine and Endometrial cancers, along with the Gardasil Vaccine to prevent the HPV virus for uninsured or under-insured residents who live in Mason County, WA. and are receiving treatment at Mason General Hospital & Family of Clinics. The fund also helps with insurance deductibles, co-pays and transportation out of the area for radiation and chemotherapy. Your donation will help us treat more residents.

Read more about the sponsorship here.