Promotions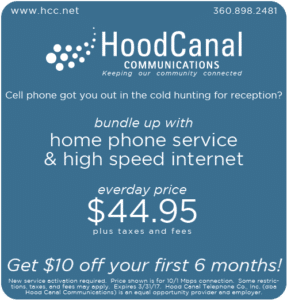 Hood Canal Communications- keeping you connected via broadband, video, and voice.
Has your cell phone got you out in the cold hunting for reception?  Hello? Hello? Can you hear me? How 'bout now?
Get home phone service and high speed internet starting at the everyday low price of $44.95. For a limited time get $10 off for 6 months when adding a new service.
Some restrictions, taxes, and fees may apply.  For more details call or click today 360.898.2481 or hcc.net.
Hood Canal Communications- keeping our community connected.