Windows 10 & Windows 8 Email Setup
Windows 10 Email Setup
1. Launch the Windows 10 Mail App from the Start menu. If this is the first time launching the app, you can skip to step Number 5.
2. Click on the small Settings "gear" icon in the lower left hand corner.
3. On the upper right hand side, select "Manage accounts."
4. Click the plus "+" sign for "Add account."
5. Scroll down in the "Add Account" window, until you can see "Advanced setup."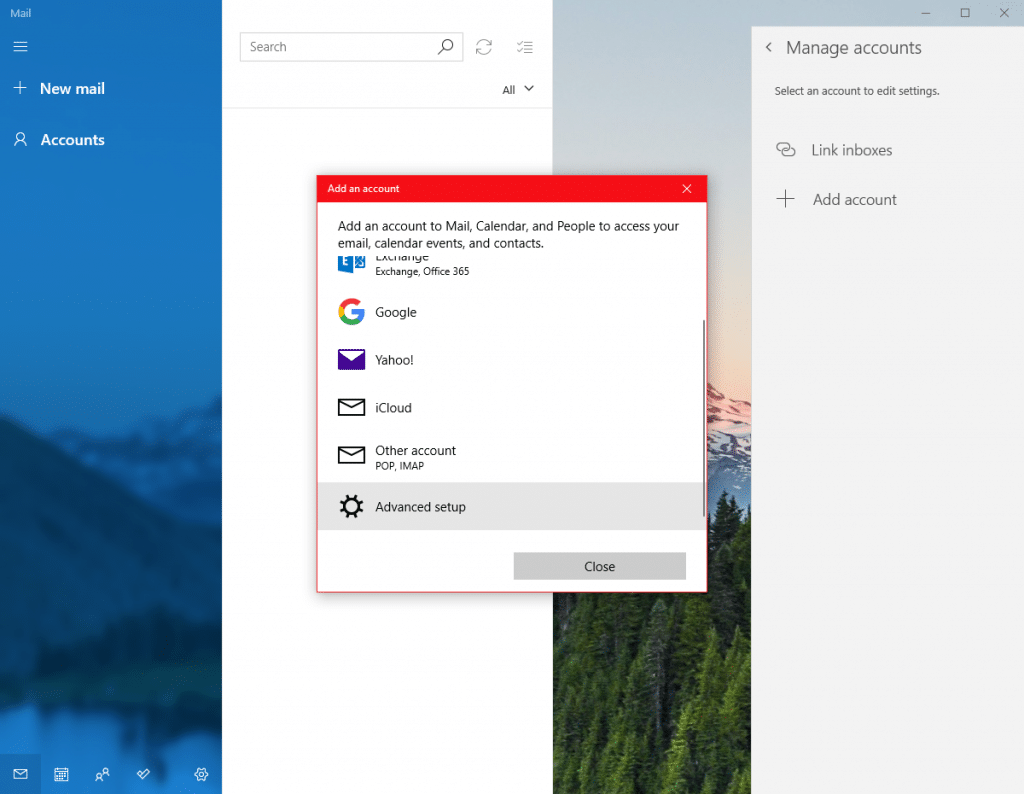 6. Enter your hcc.net email account in the "Email address" and "User name" fields.
7. Enter your password.
8. Enter "HCC Email" in the "Account name" field.
10. Under the "Incoming email server" and "Outgoing (SMTP) mail server" fields, enter "mail.hcc.net", and make sure the "Account type" dropdown menu has "POP3" selected.
11. Finally, uncheck the two bottom checkboxes labeled "Require SSL for Incoming/Outgoing email".
12. Click "Sign in" in the bottom right corner, and that's it! You should be taken directly to your inbox. If this is your first time logging in to this email account, you will see a "Welcome to HCC E-Mail" message from postmaster@hcc.net.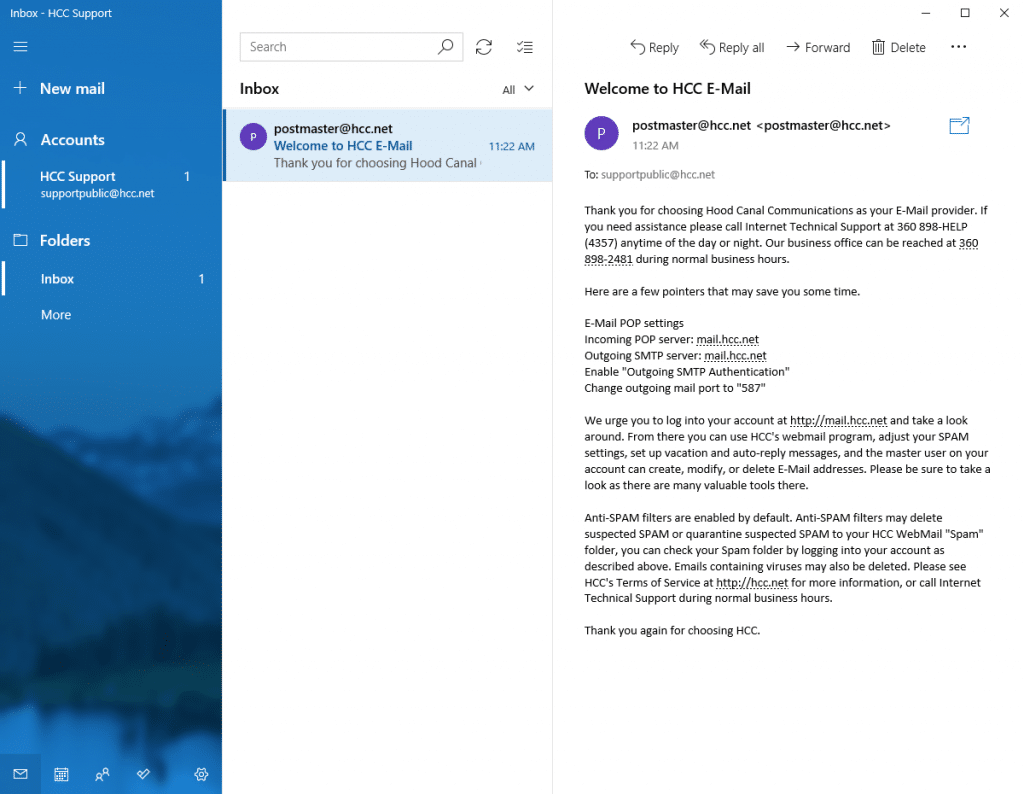 Due to some limitations of the Windows 10 Mail App, we strongly recommend using a standalone mail client, such as Microsoft's Outlook, which comes bundled as part of the Microsoft Office suite of programs. Or, if you would like a cost-free alternative to Outlook, we recommend Thunderbird from Mozilla, which can be downloaded for free at www.thunderbird.net.
–
–
Windows 8 Email Setup
1. You will have to download Windows live (mail) essentials, click link below
http://windows.microsoft.com/en-US/windows-live/essentials-home
2. On that web page you will see a blue box- GET WINOWS ESSENTIALS, DOWNLOAD NOW. Left click on download now.
3. A window will pop up- DO YOU WANT OT RUN OR SAVE wlsetup-web.exe FROM wl.dlservice.microsoft.com? Left click run.
4. It will give you an option- WHAT DO YOU WANT TO INSTALL? Left click- CHOOSE THE PROGRAMS YOU WANT TO INSTALL. Uncheck all boxes but mail and left click INSTALL.
5. Click done.
6. Go back to start, you will see Windows live mail box, left click. This will launch Windows live mail and ask for email account information.
7. Enter full email address e.g. (address@hcc.net or address@hctc.com), Password, Your name, and checked box MAUALLY CONFIGURE SERVER SETTINGS, left click next.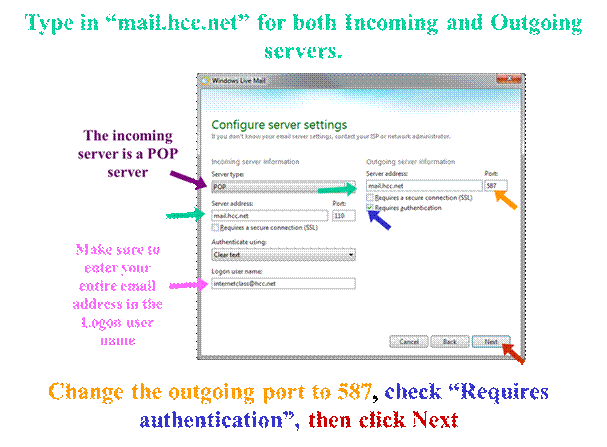 8. Left click below incoming server address: type mail.hcc.net, and outgoing server address: type mail.hcc.net, change port 25 to 587 and check the box REQUIRES AUTHENTICATION.
9. LOGON USER NAME is your full email address e.g. (address@hcc.net or address@hctc.com), left click NEXT.