Hood Canal Communications cable TV customers can stream content for free from any broadband connection!
To begin streaming content from over 70 popular networks on your smartphone, laptop, or tablet, register at watchtveverywhere.com.   You'll only be able to access content from select providers that are included in your cable TV package.
Watch  the video* below on how to register, or scroll down for step by step instructions.
 *Video demonstrates how to register using an older version of the site, but the concepts are the same.
To register follow the instructions below:
 1.      Visit watchtveverywhere.com
 2.       Select "Register" at the top of the page.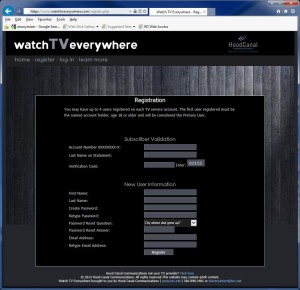 3.       Enter your Hood Canal Communications Cable TV account number located on your monthly statement or call us at 360-898-2481 for assistance.
 4.       Enter the last name as it appears on your bill.
5.       Enter the "Verification" code displayed on the page.
 6.       Enter a password you can easily remember.  
 7.       Re-enter your password.
 8.       Enter a valid email address.
 9.       Re-enter the valid email address.   You will receive a confirmation email.
 10.   After receiving your confirmation email, select the link to watchtveverywhere.com
 11.   Select "Login" at watchtveverywhere.com and enter your email address and password.
To stream content after the initial registration:
1.       Go to watchtveverywhere.com.
2.       Choose "Login."
3.       Enter your watchtveverywhere.com email address and password.
5.       Choose the network logo you want to stream.