Shari Storm Free Presentation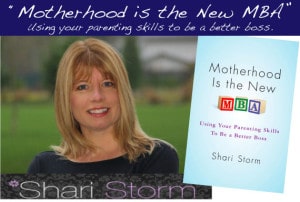 Hood Canal Communications, Our Community Credit Union, and Peninsula Credit Union have teamed up to offer the community a free presentation by international author Shari Storm.   Her book "Motherhood is the New MBA: Using Your Parenting Skills to be a Better Boss" has been featured in Time Magazine, Redbook, and on Martha Stewart's Radio Show.
When it comes to business leadership – sports and war analogies are commonly used.   Shari takes a more relatable approach by drawing parallels between the work place and family life.   Shari's ideology is that skills learned as a parent have application in the  work place.
The following excerpt from the Introduction of "Motherhood Is the New MBA" concisely summarizes the book and gives you a glimpse in to Shari's presentation: "Once I recognized the parallels between raising children and managing people, I saw them everywhere.   Suddenly, my pediatric books became rife with management advice and my management books contained wisdom for raising children.   It all became one big cross-pollination of growth and learning for me.   I realized that my training was happening twenty-four hours a day, seven days a week.   Once I realized this, I became more confident in the roles I was playing, both as a mother and as a manager."
The presentation will be April 10, 2013 from 7:45 am to 9:00 am at the Mason County PUD3 Auditorium.   The auditorium is at 2621 E Johns Prairie Road, Shelton.   Light refreshments will be provided.   Please RSVP by clicking here.