Office Closures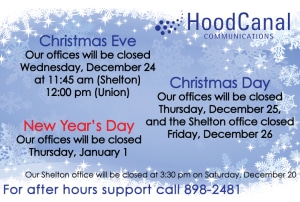 In celebration of Christmas, both Hood Canal Communications offices will close at noon on Wednesday, December 24.
Both offices will be closed all day Thursday, December 25.  The Shelton office will be closed on Friday, December 26 however the Union office will be open regular business hours.
Both offices will be closed on Thursday, January 1, New Years Day.  Did you know people have been celebrating the beginning of the new year for at least 4,000 years?  Learn more at history.com/topics/new-years.