Channel Lineup Changes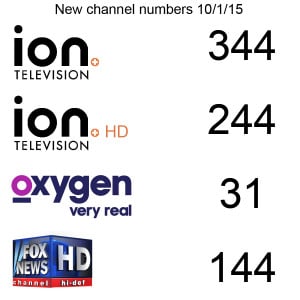 In order to comply with contractual obligations with our cable TV programmers, we will be relocating two channels in our line-up on October 1, 2015. Ion TV on channel 31 will be moving to channel 344 on our Preferred Cable line-up. Oxygen on channel 344 will be moving to Basic Cable channel 31.
Ion TV HD will be moving from channel 131 to channel 244 and Fox News HD will launch on channel 144.