January 2016 Employee Spotlight
Congratulation to Brianne Christensen and Travis Sheetz!  Read below why they are being honored as our January 2016 Employees of the Month.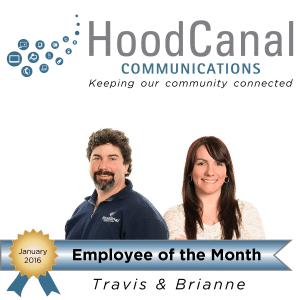 Travis gets nominated frequently by his co-workers for a variety of reasons. He's respectful and can empathize with other departments. He is knowledgeable and is always willing to take care of a situation even when it isn't necessarily in his job description. He helps out every year with the HCC presentation in the Christmas parade and this year he helped with the set up for the webcast of it.  When the tree fell on our Union office in December he jumped right in helping to remove the tree and cleaning up.  #TravisIsDaBomb
In addition to being one of our best customer service representatives Brianne does an excellent job doing voice overs with our  marketing department for our  TV ads.  In December she  did her first ever announcing gig for the local Christmas Parade and was amazing.  Several co-workers commented that she sounded like a pro on the live webcast.  Brianne has a great voice and is confident and easy to listen to.  #BrianneRocks
In January, Darren Eisele (14 years) and Chris Hooper (9 years) are celebrating  HCC-iversaries!