January Office Closures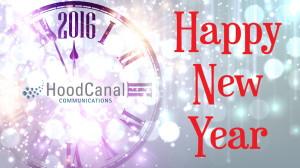 Our offices will be closed at 4:00 pm on Thursday, December 31, 2015 for New Years Eve.  Our offices will be closed for New Years Day, Friday, January 1, 2016. Happy New Year  from Hood Canal Communications!
In honor of MLK Day, our offices will be closed on Monday, January 18, 2016. Learn more about Dr. Martin Luther King Jr. and the holiday established in his honor at thekingcenter.org.
For after hours support please call 898-2481.