February Employee Spotlight
Join us in congratulating, Brooke Ogg and Vanessa Nelson, our February Employee of the Month.  Read below why they are being recognized by their peers and which three employees have HCC-iversaries in February.
Vanessa Nelson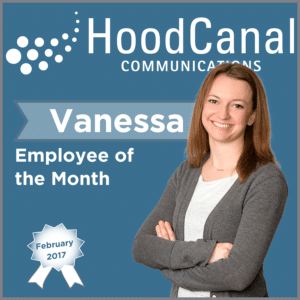 Vanessa is a compassionate employee and co-worker. Recently when a co-worker was struggling with an upset customer she volunteered to take over the call and help resolve the problem for the customer. If she sees a peer in distress she willingly lends a helping hand. We're thankful to have Vanessa on team HCC!
Brooke Ogg
Brooke is humble and hardworking. The start of a new year is an extremely busy time for the HCC accounting department with year-end financials and audits. On top of it all she is working diligently on inventory. She has put in a lot of overtime even working from home. On a recent holiday weekend she had to work even with the Seahawks playoff game going on. She's a total boss and HCC is lucky to have her!
Congratulations to the following employees celebrating work anniversaries in February- Marti Depoe (17 years),Will Crossen (1 year), and Jeannie Dragt (3 years).  Happy HCC-iversary!