April Employee Spotlight
Congratulations to our April Employees of the month Brianne Francisco and Lorenzo Determan!  Read below to learn why they are being recognized by their peers.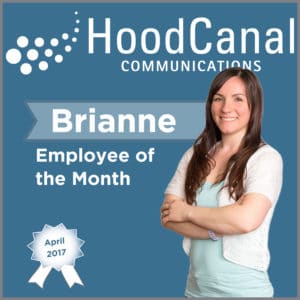 Brianne is a favorite employee with all of the HCC departments.  Her positive attitude is infectious and her customers appreciate her excellent service.  Recently she has volunteered to take on extra work helping out co-workers with projects, phone calls, etc.  She even went the extra mile and picked up garbage near the Shelton office.
Lorenzo always has a positive attitude and is willing to take on any task.  He came to HCC just 11 months ago without a background in telecommunications or cable, which have a steep learning curve.  He is a quick learner and takes on even tedious tasks in a professional manner.  His coworkers are pleased that he's learning fiber installs and
Congratulations to Spencer Jones (16 years), Kyle Johnston (9 years), Brandon West (5 years), Gwil Wiley (4 years), and Josh Heideman (1 year) on their work anniversaries in April.  Happy HCC-iversary team!