Payment Options and New Processing Fee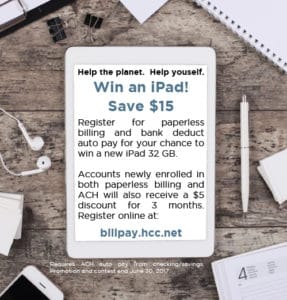 Tired of writing checks? Want to help the planet?
Register for paperless billing and auto pay; never write a check again and avoid fees! By receiving your bills electronically, you'll save paper and help planet earth!
Your registration automatically enters you in a drawing for an iPad 32 GB! New registrations for both online paperless billing and auto pay (checking/savings), will also receive a $5 account credit for three months.
Register online at billpay.hcc.net, or if you'd prefer complete and return an enrollment form.
Payment Options and New Processing Fee
Hood Canal Communications is always searching for new ways to improve efficiency and the customer experience. In January an upgraded and mobile responsive online ebill platform was released. It features a more user-friendly interface and the ability to store multiple credit or debit cards for onetime payments. The menu also prominently features the option to setup automatic payments from bank  accounts.
Additionally, Hood Canal Communications accepts credit or debit card, cash, and check payments in both offices. Some customers choose to make credit or debit card payments over the  phone. While these calls are important at times they increase call volume and hold times.
In order to improve the customer experience and allow customer service representatives to focus on troubleshooting, billing, new services, etc customers are being encouraged to make card payments online at billpay.hcc.net.  As a result, beginning June 1, 2017 a processing fee of $1.99 is being added to any credit or debit card payments made with a customer service representative over the phone. Currently, representatives are  advising any customer paying by phone that the processing fee will begin in June.