September Employee Spotlight
Congrats to Kelle Oblizalo our September Employee of the Month!   Continue reading below to see why she's being recognized and which 5 employees are celebrating HCC-iversaries in September.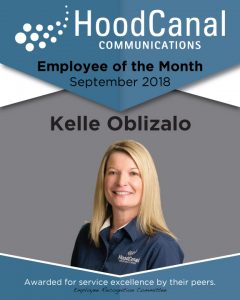 Kelle does so many things around HCC and some of them go unnoticed. She is the key person to organize the company picnic and Christmas party. In addition to time on the clock, she spends her personal time preparing for them and making sure they go smoothly. A lot of work goes in to planning, shopping, and preparing for these events. These are company events we all enjoy and really appreciate.
Congratulations to Robert Von Stein (26 yrs), Brooke Ogg (9 yrs), Vanessa Nelson (5 yrs), John Vaugh (3 yrs), and Dan Dahl (2 yrs) on work anniversaries during September.   Happy HCC-iversaries!