Hood Canal Communications and Discovery Inc. Present Karen Hilburn Cancer Fund Special Sponsorship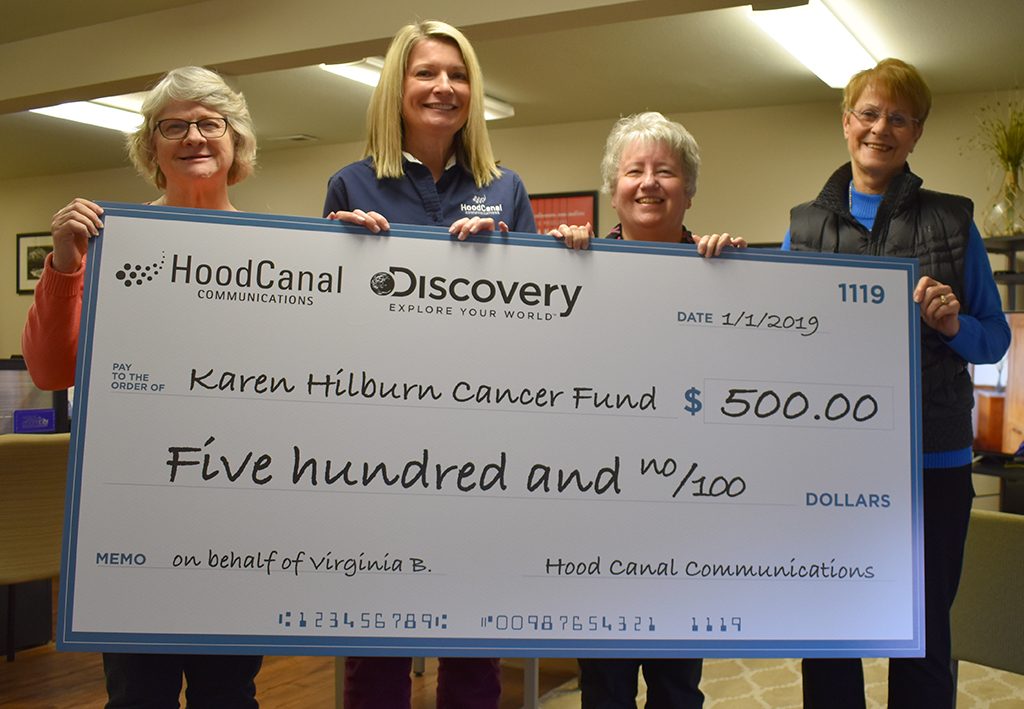 Hood Canal Communications, in partnership with Discovery, Inc. held a contest in the last quarter of 2018 to offer a cash sponsorship to a local charity. After an overwhelming response, the recipient was chosen. Thanks to a nomination by Shelton Local Virginia Brooks, The Karen Hilburn Cancer Fund will be receiving a $500 sponsorship from the two companies. The sponsorship will go toward the Fund's annual fundraiser, Denim & Diamonds.
"I'm extremely proud of our community," said Mike Oblizalo, General Manager and Vice President of Hood Canal Communications. "The number of entries we received on this contest was remarkable. And the Karen Hilburn Cancer Fund is a deserving recipient of this sponsorship."
Kelle Oblizalo, Customer Service Manager at HCC, sits on the board of the Fund, but was not involved in the decision process. "I was just as surprised and excited as everyone else. The sponsorship will help make this year's fundraiser even more special."
The mission of the Karen Hilburn Cancer Fund is to help residents of Mason County with medical expenses for Breast and Cervical cancer, who are uninsured or under-insured. In addition to supporting Breast and Cervical cancer, in 2017, the Fund added Ovarian, Uterine and Endometrial cancers, along with Gardasil Vaccinations to prevent the HPV Virus to their mission. The Fund was established in 2004.
Hood Canal Communications is a local communications service provider with approximately 5,500 residential and business customers in Mason County.   With offices located in Union and Shelton, the company has been serving Mason County since 1934.