HCC Customer Wins Mariners Tickets…and Gives Them Away
Between April and May, we held a contest for new or upgrading HCC broadband customers. The grand prize were two tickets to a Mariners home game in the 2019 season, provided by ROOT Sports. The winner was chosen randomly early last June.
Multiple attempts were made to call the winner, but it was a postcard that finally reached Steven H. who lives outside of Shelton. Steven called, cautiously optimistic, to claim his prize. Through a bit of phone tag, we were able to get in touch with Steven on Monday morning.
Steven was understandably excited when we told him the news that he had indeed won two tickets to see the Mariners at T-Mobile Park on a date of his choosing! When the dust had settled, he followed up with an unexpected question. "Can I give them away?"
"Well, sure, they're your tickets to use how you see fit," we said to him. "Can we ask why you're giving them away?"
Steven proceeded to tell us that his father-in-law, Mark S., loves baseball, and had just been diagnosed with a serious illness. Steven thought the opportunity to provide Mark the experience of seeing the M's in person at T-Mobile park, no strings attached, was too good to pass up. We couldn't have agreed more.
Steven brought Mark to the office on Monday afternoon, telling Mark that he was tagging along to help Steven pick up the prize. We greeted both of them and presented Steven with the prize basket. We went outside to take a few photos, and then said, "Mark, Steven has something he wants to tell you."
These are the photos of the special moment when Steven told Mark that he was giving him this experience.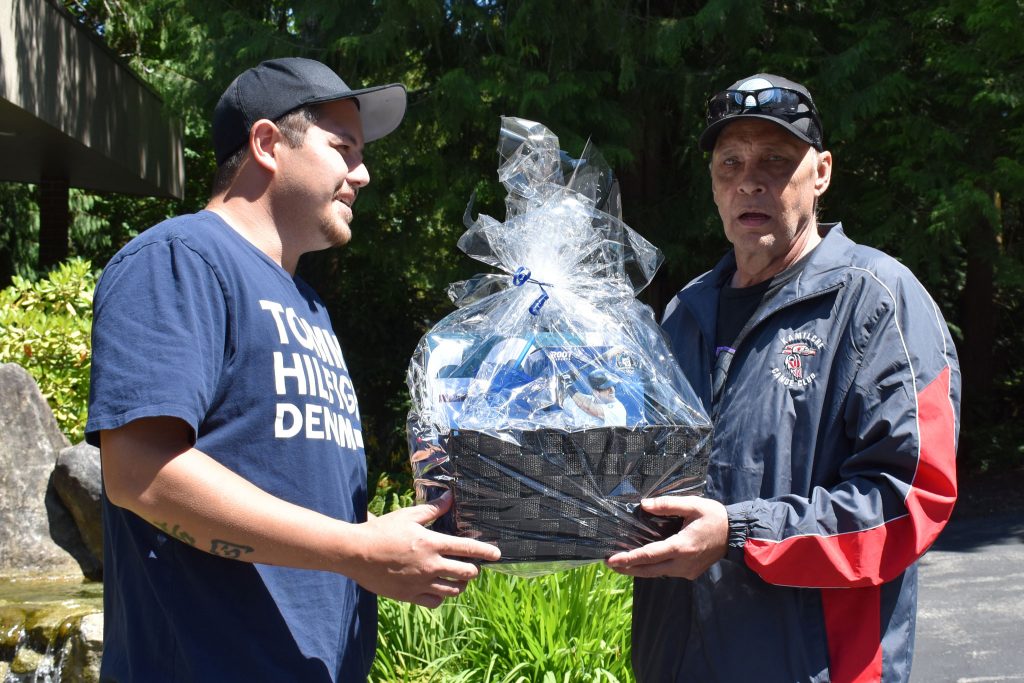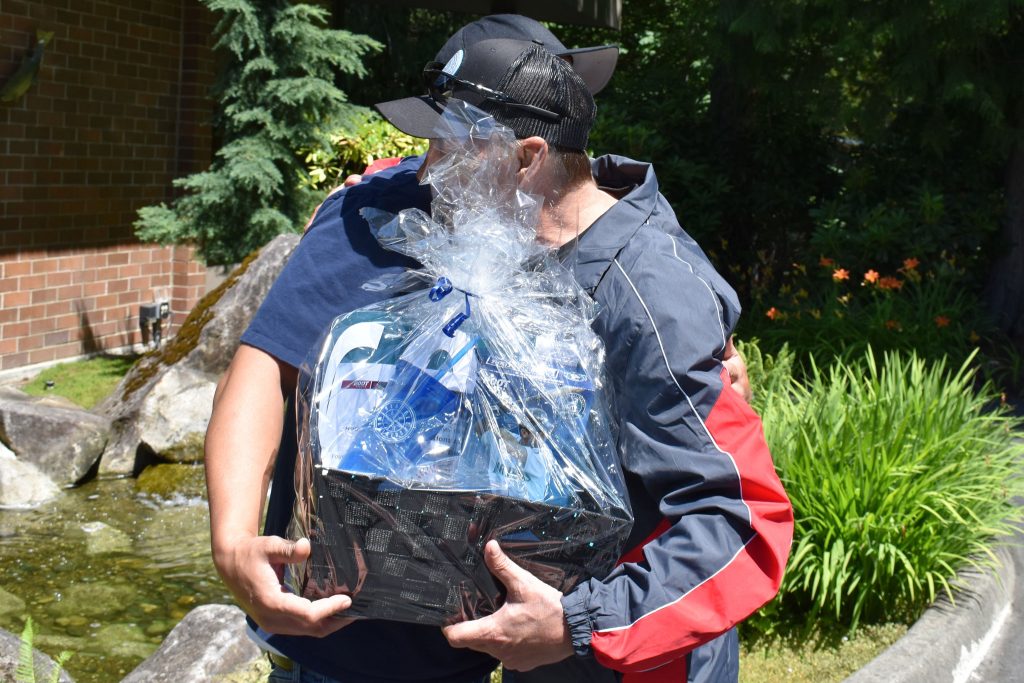 Mark could barely believe that his son-in-law was doing something so selfless! After many laughs and hugs, Mark finally said he couldn't wait to see the M's live.
"Which game do you think you want to see?" We asked. Without hesitation, he replied, "The Hall of Fame celebration game!" Mark says his favorite player has always been Edgar Martinez.
"Man, I'm supposed to be at home mowing the lawn right now," Mark started to say at one point, then pointed to the gift basket and said to Steven "I'm glad I came with you to pick this up instead!"
Way to brighten everyone's Monday, Steven. And Mark, we hope you have a great time at T-Mobile Park!