Tips for Supporting Your Local Businesses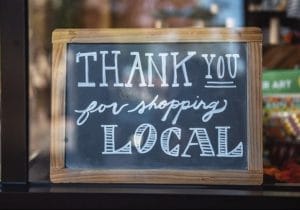 Right now, we're presented with a unique opportunity to meaningfully support our community by supporting our local businesses. You can benefit by making some great purchases for yourself and the community can benefit by ensuring these local companies have a much stronger chance of returning to normal when the crisis has passed.   It's truly a case of doing well by doing good.
Here are some ways you can contribute to the local economy and come across some golden finds!
Check websites and social media pages for details on how your favorite places are operating, including hours and any special instructions. For example, while restaurants and retail businesses have closed their inside areas, they are offering curbside service, delivery, or drive-thru. Bonus: Some restaurants provide an online menu, which allows you to place your order online or by phone""this provides less exposure for them and shorter wait times for you.
Find out if your favorite businesses that are unable to offer a to-go service are curbside delivery. Many local retailers, financial planners, and consultants are making their services available online. Additionally, many tutors, art, and music instructors offer online classes as well.
Can you buy locally before resorting to placing an online order from outside the community? Even if your favorite shop doesn't have a robust online ordering platform, reach out to them by phone""they may have other resources available to meet your request.
For waitstaff who rely on tips for a good portion of their wages, consider a larger tip for curbside service or delivery, if you are able.
For businesses that are currently unable to provide services, such as hair salons, barber shops, nail salons, and so on, consider purchasing a gift card for later use. Small businesses can use those funds now to stay afloat now and they'll be ready to serve you when life returns to normal.
How else can you help? Spread the word! Share information with your friends and neighbors about what is available from local businesses.   Leave a great review about a local business. Make a post on social media about that great meal or that beautiful flower arrangement you picked up curbside.
By supporting our community businesses, we're supporting our friends, family members and neighbors. If we all do our part to keep our community connected and supported, we'll all come out the other side of this better!